Therefore, I urge you, brothers, in view of God's mercy, to offer your bodies as living sacrifices, holy and pleasing to God—this is your spiritual act of worship.
– Romans 12:1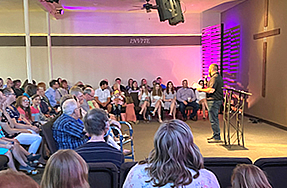 It can sometimes be nerve-wracking to walk into a new church.  To help you better understand what to expect at one of Cedar Point's "Worship Services" we thought we'd answer a few basic questions.
When and where are the services?
In April of 2014, we purchased our first building, the old Nashua Pharmacy, at 310 Main Street in Nashua. God loves to restore broken things, and so do we. It had been a long process but our remodeling is almost complete. Come join us every Sunday morning at 10 AM for worship. Services are usually about an hour in length.
What will the service be like?
We don't believe church should be boring. There is so much in life to be celebrated. So our services are fun and relaxed, yet intentional and focused on an amazing God. Through biblical preaching, worshipful music, times of reflecting on the week, and prayer, we present the truths of God in a way that is meaningful to our lives, even if you've never attended church before. Visitors are never called out or put on the spot. Our goal in everything we do is done so that our hearts would be transformed by God.
What does the pastor talk about?
Sermons at Cedar Point are a mixture of expository (explaining the text verse by verse) and topical sermon series, always taking God's Word and applying it to our lives. At times you will feel encouraged, convicted, challenged, or inspired.  We believe God wants us to understand His Word in a way that impacts our daily living without watering it down or avoiding certain truths.
What should I wear?
Well, clothes would be nice. But seriously, we are a relaxed church that has no particular dress code. God is most concerned with what's on the inside than the outside, and so are we. If it helps, Pastor Darin often wears blue jeans.
Will an offering plate be passed?
No. We do not pass an offering plate during our services. Tithing is definitely a command from God, but is meant for our regular attendees and is received through offering boxes. We feel that "God blesses a cheerful giver," not one who gives under compulsion.
What if I've never been to church before?
Then you are exactly who we started this church for. One of our core values is "authentic community" where real people are living honest lives seeking genuine growth in Christ together. None of us have it all figured out. But we firmly believe that together we have a better chance of understanding what exactly God wants for each of our lives. If you've never been to church, are wondering about it, or just have lots of questions about God or life, we'd love to come along side you and figure it out together.
What about my kids?
We offer a separate environment during our worship services to help your 4-year-old through 3rd grade children encounter God in an environment that is more age appropriate. Children are dismissed after the singing portion of the service to attend KIDZ Point Sundays where they are able to grow in their own relationship with God.
For newborns through 3-year-olds, we have a supervised nursery area.
Because our kids are our most precious possession, any CPC worker who volunteers to help serve kids undergoes a background check.