Train up a child in the way he should go, and when he is old he will not depart from it. - Proverbs 22:6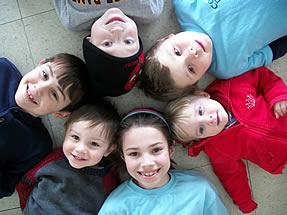 At Cedar Point we love watching families thrive and our kids grow in their relationship with Christ. KIDZ Point is designed to help point elementary-aged children to God. Children are loved by God and extremely important to us at Cedar Point.
We believe the church's role is to come alongside parents in training their children to follow Christ. We want to partner with you to help your child discover and embrace a growing relationship with Jesus. We focus on three things while teaching our children about God: making wise choices, that they can trust God no matter what, and they should treat others the way they want to be treated. When you combine the light of the church with the love of the family children discover the joy of following Jesus for a lifetime.
KIDZ Point Sundays provides an environment that is both safe and fun for your 4 year old through 3rd grade children during our worship services (dismissed after the singing portion of the service). This gives both adults and children their own environment to encounter God.
KIDZ Point Wednesdays is for our 4th - 6th grade students which meets on (you guessed it!) Wednesday nights from 5:30 to 6:30 PM. God's truth mixed in with food and fun is a great way to point kids to Christ, giving them a foundation that will keep them grounded in the future.
KIDZ Point also holds community-wide activities from time to time so that families can have fun together. Some past events held have been Family Movie Nights/Matinees, Vacation Bible School, and Fall Family Festivals. Look for more events and additions to come!
If you are passionate about helping kids and watching them grow in following Christ, or just want to serve behind the scenes, please contact the church office at 435-4850. (All volunteers undergo a background screening.)