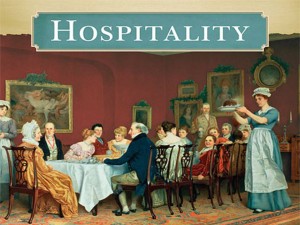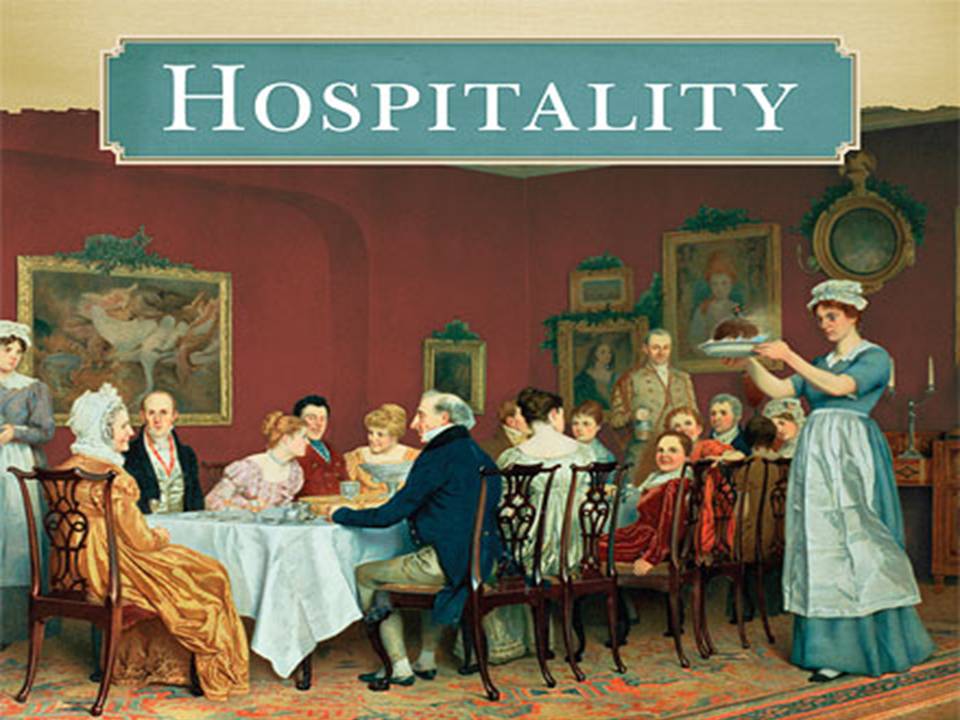 When we think of "hospitality", what comes to mind?  Entertaining family and friends?  Martha Stewart?  A painstaking chore?  Something done by only a few, with no lasting consequences?  Over the last few decades we have lost a Biblical understanding of the holistic impact of Christian hospitality.  Martha Stewart didn't invent hospitality. More radical still, she hasn't perfected it either. Hospitality as presented in the Bible is not merely a practice. Instead, it is a way of life in view of the coming of God's Kingdom.
Throughout the entire Bible God demonstrates and commands his followers to practice hospitality.  Our English word "hospitality" comes from the Greek word philoxenia which is from two root words xenia meaning foreigner or stranger and the word philo which means love. In other words we are to show love to strangers, hospitality to others.  So what do you do to show hospitality to others?  How do you show love to strangers?
In his book Outlive Your Life, Max Lucado writes:
"Long before the church had pulpits and baptisteries, she had kitchens and dinner tables. Even a casual reading of the New Testament unveils the house as the primary tool of the church. The primary gathering place of the church was the home. The early church (with its varied backgrounds got along) without the aid of sanctuaries, church buildings, clergy, or seminaries. They did so through the clearest of messages (the Cross) and the simplest of tools (the home).
Something holy happens around a dinner table that will never happen in a sanctuary. In a church auditorium you see the backs of heads. Around the table you see the expressions on faces. Church services are on the clock. Around the table there is time to talk.  When you open your door to someone, you are sending this message: 'You matter to me and to God.' You may think you are saying, 'Come over for a visit.' But what your guest hears is, 'I am worth the effort.'"
Newspapers in the early 1900's used to contain sections called The Society page in which one could read updates about the travels of Mrs. Northrup, Mr. Graham, the Brooks family, and others.  It told who had out-of-town guests at their house.  It provided announcements for bridge parties and upcoming cooking club get-togethers.  And it gave tips for hosting a perfect dinner party or afternoon tea.  They were stories of people they actually knew, people who lived down the street and belonged to a community.
And the sad thing is we've lost something that our older generations had.  Where are the bridge parties, ice cream socials, dinner parties, barn dances, and block parties hosted by people who actually live on the block?  As Americans in the 21st century, we tend to undervalue the sacred nature of community and hospitality. We're all about the family and the rugged individual, the lone hero. But actually, we are a lonely people.  The invention of social media only creates an illusion of community.  People take their iPads and their books with them to gather together at coffee shops but to be alone, while our souls thirst for meaningful relationships because God has created us as relational beings.
But you and I have the cure for loneliness, it's Jesus.  It's living a life like our Savior did.  Look at the way Jesus lived his life.  The Pharisees accused him of being a drunkard and a glutton.  He was constantly eating and drinking with people, showing hospitality to others.  His ministry began at a Jewish wedding, a celebration that would've lasted for days.  He constantly ate with sinners like Matthew and Zacchaeus.  He shared meals with his friends the disciples and Mary and Martha and Lazarus.  Twice he fed the multitudes.  And he even shared a glass of water with a Samaritan outcast.  In ancient cultures sharing a meal was much more than just eating but it was about sharing their lives together.
So what do you do?  How often do you open your home to others?  When you go to eat lunch at work invite a co-worker to come along with you.  Sit down and get to know someone different.  Thanksgiving is soon approaching.  If you know someone who's going to be alone for Thanksgiving invite them over to your place.  But remember practicing Christian hospitality isn't about glittering, glamorous table settings or platters of picture-perfect food; it's about practicing servanthood right in the middle of your everyday lives. More important, it's about loving others through Christ and making people feel special.
If Christians would practice true hospitality, we could play a significant part in changing our corner of the world.  The bottom line is that God can use people like you and me to touch lives. Our communities will be transformed as we learn to show philoxenia, love and hospitality to others.  It doesn't matter if we rent or own a house or an apartment; our homes are an extension of ourselves. When we practice hospitality, we have the opportunity to touch lives in an intimate, personal way. Be bold: God has not only given you the roof over your head, but also will give you the love and wisdom needed to open your home to others.  With a little planning and preparation and a good measure of prayer you can be prepared to share your home with friends, neighbors, and even the strangers God may send your way.