"We implore you on Christ's behalf…"
The Christian 'Super Bowl' is this Sunday.  There is no greater day in the Christian faith than Easter.  Without Christ's sacrifice on the cross and his rising from the tomb we'd still be dead in our sins and separated from God.  But thank God for Jesus!
For those of us who already know Christ as Lord & Savior Easter presents an awesome opportunity to invite others who are far from God or have given u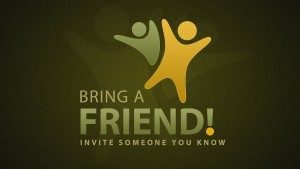 p on the church to give it another shot.  The Apostle Paul in his letter to the Corinthian church begged Jesus followers to reach out to others.  The truth is, God works through us in bringing people to himself.  We are His ambassadors, IF, we choose to be.
We have two days left before Easter.  Make them count!  Invite that coworker, your neighbor, your friend to church.  Don't simply come and sit through another Easter service without doing anything with it.  Go be an ambassador, a herald, a proclaimer of the greatest news the world has ever heard.  Grab that person on your left and the person on your right and invite them to church.  They matter to God too!  The question is, do they matter to you?  Make this weekend count.
2 Corinthians 5:14-21
"14 For Christ's love compels us, because we are convinced that one died for all, and therefore all died. 15 And he died for all, that those who live should no longer live for themselves but for him who died for them and was raised again.
16 So from now on we regard no one from a worldly point of view. Though we once regarded Christ in this way, we do so no longer. 17 Therefore, if anyone is in Christ, the new creation has come: The old has gone, the new is here! 18 All this is from God, who reconciled us to himself through Christ and gave us the ministry of reconciliation: 19 that God was reconciling the world to himself in Christ, not counting people's sins against them. And he has committed to us the message of reconciliation. 20 We are therefore Christ's ambassadors, as though God were making his appeal through us. We implore you on Christ's behalf: Be reconciled to God. 21 God made him who had no sin to be sin for us, so that in him we might become the righteousness of God."